This is one of the most difficult testament to one's profession. For those who don't know, I come from the interior design/architecture industry therefore selecting furniture and finishes is a part of the job. However, when that baton is passed onto my own home...eep!
Honestly all procedural reasoning goes out the window. The typical space planning exercise goes out the window, inspirational images prior to design development are not even part of the thought process, I didn't even consciously decide on an accent color.
So the reasoning for sharing this experience on my blog is because I think most people follow the same train of thought as I do. As much as I wanted to choose the best designer furniture with the most trendy accents - I ended up making decisions based on financial practicality as the main concern.
Act 1.
Decide on where you want to spend your money.
Through many discussion, Jimmy and I decided we wanted to start fresh with mostly new furniture in our new home. First big ticket item we could think of was a comfortable while stylish couch.
The couch was where we would spend a lot of time hanging out - watching TV or playing video games or just chatting. I wanted something that could be fairly versatile with good quality and a neutral color. But at the same time, not overly trendy to become dated in little time.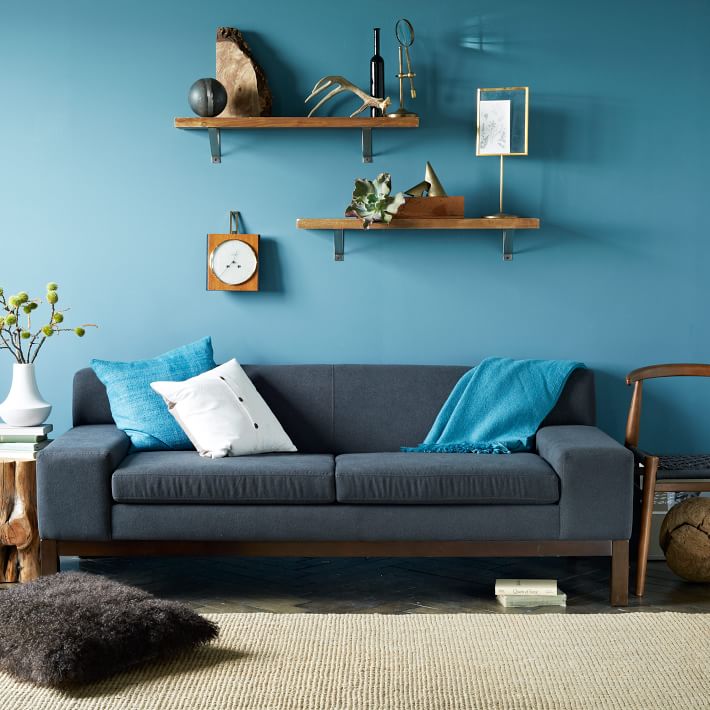 West Elm Lorimer Sofa
After long hours scourging through the internet and walking through endless shops, I decided to choose this low profile beauty that promised comfortable sleeping and napping. The low yet wide arms on each side provide a perfect tray for my phone, laptop, and even plate of food at times. It also seemed to come in very handy when I am in need of a little nap, perfect to also double as a seat when we have more company.
Here's a few photos of how the sofa worked out in our very narrow space:
I think it ended up looking very cute :) Bear in mind, this is still a work in progress.
*Tips for finding an appropriate couch for your space.
Measure the length and width of the room prior to shopping
Best to find a neutral color so that it can stand the test of time and match your other furniture pieces (we chose a grayish blue "Licorice")
Think of how you will utilize the space. TV lounging? Hosting parties? You may find a need to shop for a set or contemplate complimentary armchairs.
Good luck!